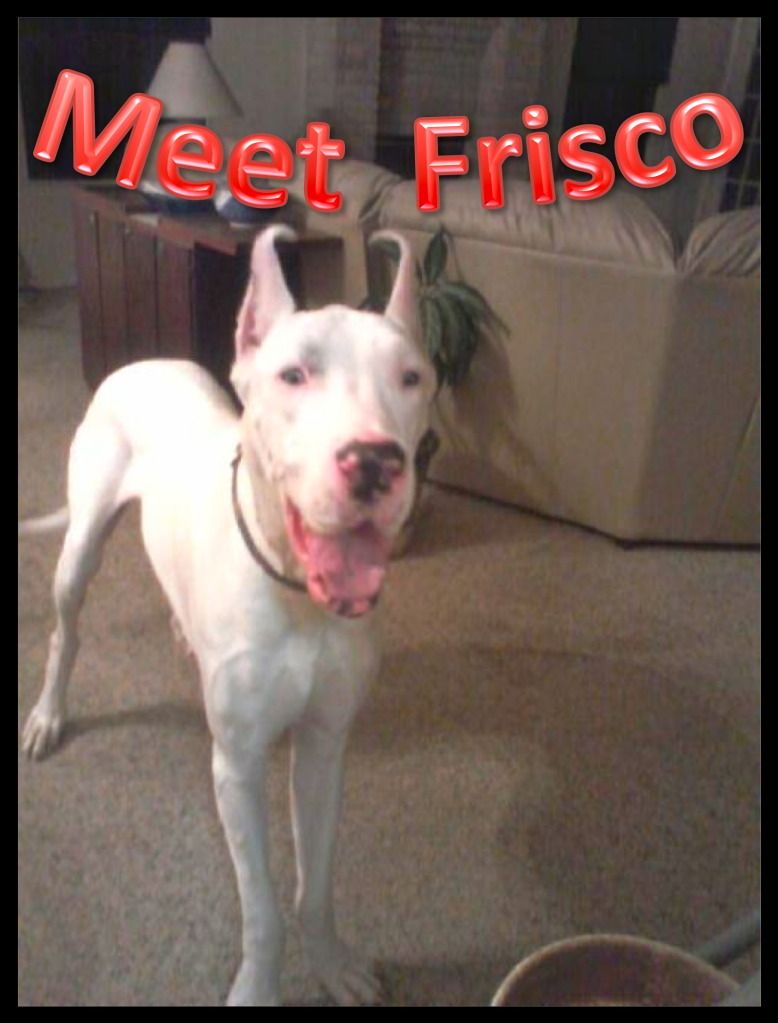 This is Frisco, 2 year old neutered Male Great Dane. He is 90% Deaf and about 80% Blind. He gets along with adults, kids, and bigger dogs.
We will not place Frisco in a home with smaller dogs due to his sight impairment he is unable to determine if he is playing with a small dog or a toy. Frisco functions normally, is house trained and sleeps on a dog bed right next to his foster mom's bed.
Frisco is happiest when he is by your side - he likes the company and will calmly follow you from room to room. Once at home, Frisco will find a place on your couch and claim it as his own. He sleeps soundly, is laid back, loves to be scratched under his chin and hugged. He is completely housetrained, sleeping the day away until dinnertime when he does a little happy dance. His favorite snacks include doggies treats and any stray paper towel that happens to be within reach.
Considered a "special needs" Dane, he is almost completely deaf and is almost totally blind, but has no problem seeing large things. Frisco doesn't like to be startled, so just flicker the lights or give him a light tap when leaving or entering a room. He finds his way around the house just fine adapting to his surroundings quickly. He is a perfect gentleman in public, trusting your moves and walking right by your side. He is not overly active, but will zoom around the yard when the feeling strikes or spend a few minutes sniffing around before coming right back indoors.
Frisco currently lives with another Dane and will share, but really prefers for everything to be his. He has a dominant personality at home, so he will do best in a home without other pets. The fast movements of children make him nervous. He's never used a doggie door and may not adapt to one.
Frisco's ear tips are curly, forming a little heart when they stand up straight.... proof that he has lots of love to give in a quiet, stable forever home.
His adoption fee is $300. He is up to date on all shots and microchipped.